Dogo area (1.5~2hours)
Let's enjoy Japan's oldest hotsprings town!
Dogo is located in eastern part of the center of the city. There are many highlights around Dogo onsen tram station. You can enjoy Japanese historical structures and souvenir shopping arcade around here. Dogo is renowned as Japan's oldest hot spring. If you don't want to try Japanese public bath, you can enjoy its healing power at free footbath places in Dogo.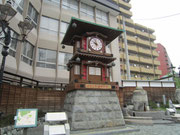 It's a mechanical clock moving up every hour from 8am to 10pm.
Beside it, a foot bath is available for free!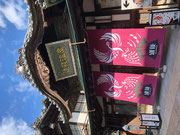 It's Dogo Hot Springs bathhouse which was built about 120 years ago.You can take a bath from 400yen. The special bath for the imperial family "又新殿(yushinden)"is shown for 250yen. It's said that it's the model of the bathhouse on "Spirited Away", animated film by Miyazaki Hayao.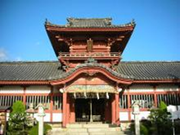 It's a guardian shrine to protect Matsuyama city.
Let's go up 135 stone steps!
You can try "Omikuji" fortune slip in English for 100yen.
Take a walk on a promenade, and enjoy the full view of Dogo!
It's over view of Dogo Onsen Honkan from sky promenade
"Sora- no-sanpomichi".
Other interests in Dogo
There are free foot baths here and there in Dogo.

Hogonji temple, Enmanji temple and Dogo Park(Yuzuki castle site) are also nice!