Wednesday, August 28, 2019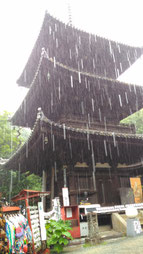 Today we visited Ishite-ji. Personally this is my first time in six months to visit this temple. Unfortunately it was raining, and not many people were there. But thanks to the rain, the extreme summer heat was eased a little. And I felt somehow refreshed. Does the rain falling in this holy place have power to wash one's dirt away? Maybe.
Wednesday, August 21, 2019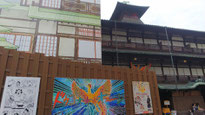 This is the north side of Dogo Onsen Honkan with the current front door. Do you know it has been partly open even under earthquake resistance construction? The local people are trying to make this historic building more attractive under construction, using its historical value and Japanese pop-culture. Why don't you come and check it out?  
Saturday,  August 17, 2019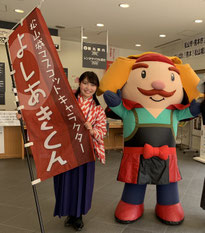 We are in the middle of the summer vacation. The mascot character of Matsuyama Castle "Yoshiaki-kun" the first lord of our castle, gives you a hearty welcome every weekend in August.
He is so cute and friendly.
Wednesday, July 31, 2019
Children are on summer vacation.  Many families visit Ishite Temple.  There is a cave behind main hall.  The inside is very cool.  But we recommend that you take a light because it's so dark.  The summer in Japan is very hot and humid.
Wednesday,  July 24,  2019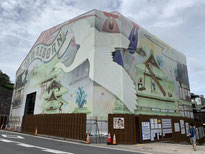 Under the large scale seismic retrofitting work, the whole building of Dogo Hot Spring is currently covered with fantastic artworks.  The series of these artworks are created and provided by Dogo Reborn Project.  https://youtu.be/FgPl9Lro80g
Saturday, July 20, 2019
There are many restaurants along the rope way street. We visit one of them today. On the plate are various local dishes.  And orange juice from a tap!   
Wednesday, June 26, 2019

Matsuyama city officials announced that the rainy season started today.  Strolling at Ishite Temple, we found the leaves were growing thick around the stupa behind the hydrangeas, which looked more beautiful in the moist air.
Saturday, June 1, 2019

It has been one month since the Reiwa era started.  On the top of Matsuyama Castle hill, local people and tourists from inside and outside of Japan were strolling under the June sunlight.  We sincerely hope the new era will continue to be peaceful for people
Wednesday, May 29, 2019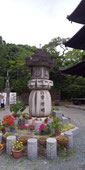 Tuesday, May 21, 2019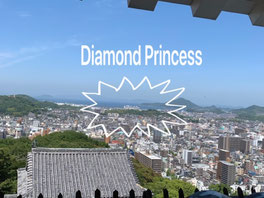 The luxury cruise ship, Diamond Princess called on our town.  It brought over two thousands tourists to Matsuyama.  Their destinations were diverse, Uchiko town, Shimanami-line, etc. Six of them had reserved our full-day tour.  We strolled around Matsuyama Castle, Dogo Town and so on.  The photo taken at the castle tower shows how huge the cruise ship is. The distance between the castle and the pier is approximately 7 kilometers / 4.5 miles.

Diamond Princess
The cruise ship will touch at Matsuyama on May 21 & June 3. Matsuyama-city has arranged English-speaking volunteers in many places to help guests. I wish all cruise guests fully enjoy Matsuyama!
Saturday, May 19, 2019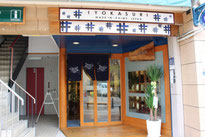 New restaurants and souvenir shops have opened along the ropeway street. One of them is this shop. Here you can make "Himedaruma (Princess doll)",one of Matsuyama's souvenirs, by yourself. Indigo-dyeing experience is also available. Each of them takes about 60 minutes.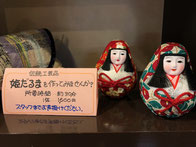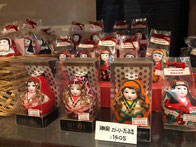 Wednesday, May 8, 2019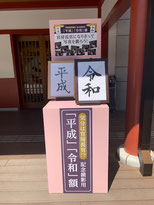 The era in japan correlates with reign of each emperor.  Former Emperor, Akihito, abdicated the throne on April 30 and his son, Naruhito, assumed the throne on May 1.  We are celebrating the beginning of the new era all over Japan.
平成/Heisei means achieving peace, 1989-2019
令和/Reiwa means beautiful harmony
(Image ;in front of Dogo Asuka Hot Spring)

Wednesday, April 24, 2019

We went to Ishite temple. Wisterias are blooming, and new leaves are getting green. There are quite a few pilgrims chanting a sutra in harmony. There seems to be a peaceful feeling this spring at the temple.
Wednesday, April 17, 2019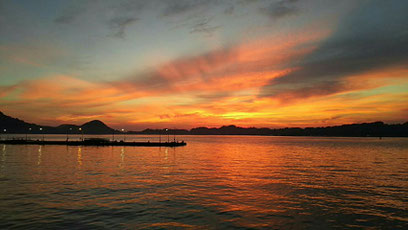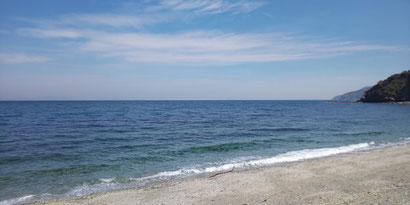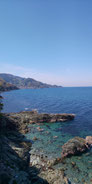 Here are some pictures we would like to show you. 
Aren't they beautiful?
This sea is called Iyonada which is a west part of Seto-island sea.
Enjoy the sea view in Ehime.
Saturday, April 6, 2019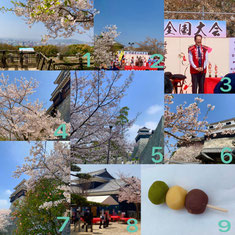 The cherry blossoms are in full bloom this weekend. The castle was crowded with locals and tourists today. Cherry blossoms/Sakura & 1.view of downtown 2.3.spring festival 3.the mayor 4.5.6.turrets and stone walls 7.camellias 8.tea ceremony 9.dumplings provided with green tea. "Bread is better than the songs of birds." We say "Dumplings rather than flowers(cherry blossoms)."  Let's have a blast this Sakura season!

Sunday, March 31, 2019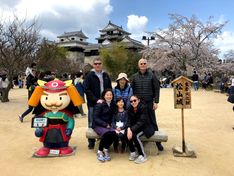 We guided a guest from U.S and Tokyo around Matuyama Castle.  That day there were so many people to watch beautiful cherry blossoms. We got on the cable car.  It was fun because we could see cherry blossoms both side like as the pink tunnel.  We had ice cream there.  It was so delicious.  Then we went up the castle tower.  It was a fine day.  We could enjoy special view from there. Two daughters of the guest love animals. They took some pictures with dogs and cats there. It was all five people very nice person. We spent a wonderful spring day with them. Thank you for contacting us!

Wednesday, March 27, 2019
Spring is a good season for pilgrims.  We heard some chanting by pilgrims, monks and priests in the temple area.  Near the Ishite temple there are some parks at the river.  It is fun to have picnic at the river, too!  In Japanese the act of cherry blossom viewing is referred to as "Ohanami".

Wednesday, March 20, 2019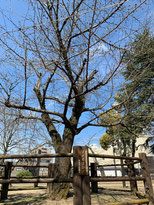 This is a cherry blossom tree at Dogo Park.  It is designated as the sample tree for our region.  If the tree has five or six flowers blooming, the start of the cherry blossom season is announced. Some officers from the city hall were on a stakeout for the blossoms all day.
 What a peaceful and exciting day! 
Wednesday, February 27, 2019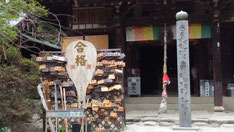 合格(Goukaku)means "pass the entrance examination".  From January to March is the season of entrance examinations in Japan.  So many students go to some temples and shrines to wish for their success.  We also wish them good luck! 
Wednesday, February 20, 2019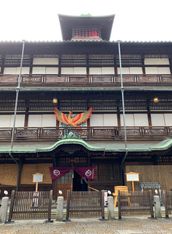 Due to the seismic retrofitting work of the building, the north entrance is temporarily open instead of the west entrance.  The north entrance was originally the front of the building.  So it is a valuable opportunity for the visitors to use the original front entrance.
Saturday, February 2, 2019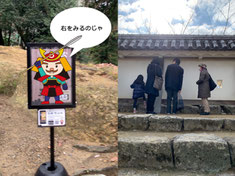 Today's our guest was a Japanese guy. He is a local high school student and interested in guiding in English. I hope he learned about Matsuyama Castle more today and will guide it in near future.
 By the way, various events such as treasure hunting are being held around the castle now. Let's join and enjoy them!

Wednesday, January 30, 2019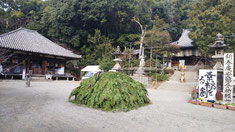 Ishite temple was getting ready for Setsubun, the last day of winter according to the old lunar calendar. The temple ground was clearer than usual, and in the center was a pile of sprigs, to make a fire-offering. Behind the pile, a platform was being prepared, where people would throw rice cakes on that day, February 3. Even though the weather remains cold, spring is not too far away.

Wednesday, January 23, 2019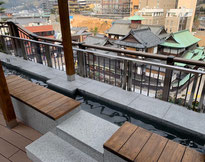 Preservation repair construction of Dogo Onsen Honkan began.  It'll take about 7 years.  But the main building won't be closed completely.  We can take a bathe on the 1st floor.  (We can't use the 2nd and 3rd floors.)  The entrance has been moved from the west to the north side. During construction, we can see some pictures of the phoenix around the building.  And there is a foot bathe with a wonderful view at the top of the hill next to the main building.  Please enjoy it, too!

Saturday, January 19, 2019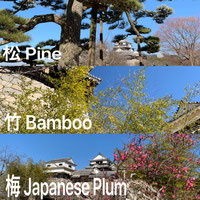 松竹梅, syou-chiku-bai, the combination of pine-bamboo-Japanese plum (ume blossom) symbolizes happiness in Japan.  New year's greetings from Matsuyama Castle.  Today's castle was breathtakingly beautiful under the crystal-clear sky.  We wish you all have a great new year.

Wednesday, December 19, 2018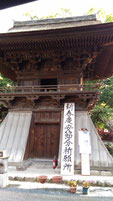 The end of the year is drawing near.  This is a picture of a bell tower in Ishite-ji.  At midnight on New Year's Eve, the priest rings the bell 108 times.  Human is said to have 108 worldly desires, and those are erased one by one with the sounds of the bell.  Then we can start the New Year feeling refreshed.
  Happy New Year!
Wednesday, December 12, 2018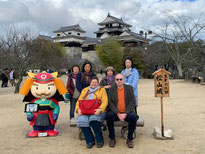 We met a nice couple from Germany.  We guided them at Matsuyama Castle and they with talked us about European castles. It was very interesting.  We went up the castle tower then enjoyed chatting on the hill.

Wednesday, December 5, 2018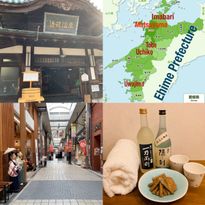 They just finished the customary year-end cleaning yesterday, the main building of Dogo Hot Spring is shining.  The souvenir shops in Dogo shopping arcade leading to Dogo-onsen offer a variety of products in Ehime Prefecture.  Towel/Imabari, Porcelain/Tobe, Sake/Uchiko, Jakoten(fish cake)/Uwajima etc. etc.  There are a lot of good souvenirs other than these.

Wednesday, November 28, 2018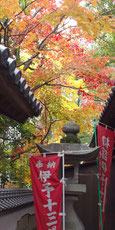 When we arrived at Ishite-temple, a temple priest was chanting a Buddhist sutra. The sky looked darkish and heavy, and the sound of sutra really matched in such a weather. The priest's sutra echoed around the quiet temple ground with a few worshippers. We just stood and listened to it in awe feeling for a while. Colored leaves were falling down. Now we realized the arrival of winter.
Saturday, November 17, 2018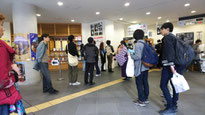 On Saturday morning, the ropeway station of Matsuyama Castle was constantly visited by quite a few tourists. They looked like they couldn't wait to enjoy a beautiful day under the autumn sky, under the castle tower.
matsuyama ya/aki yori takaki/tenshukaku
 (Matsuyama―/higher than the autumn sky/the castle tower)
by Shiki Masaoka
Wednesday, November 14, 2018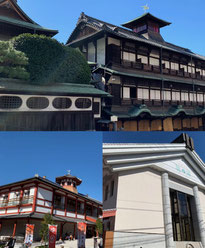 It was a balmy Indian summer day.
 We strolled around Dogo town. There are three bathhouses run by Matsuyama city in Dogo, 124 y-o the main building, 65 y-o Tsubakino-yu and brand new Asukano-yu. Asukano-yu reaches its first birthday on 26th December.